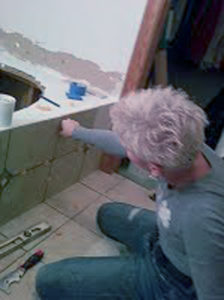 Complete Custom Tiling (formerly Sea Haggs, Inc.) was established in 2001 by owner and operator, Lisa Moran. Her interest in home renovations was first sparked as she worked side by side with her father in the field of construction. After thirteen years in the United States Air Force where she served as a Staff Sergeant and Civil Engineer, she continued her passion in home renovations and repair. Since then, she has consistently provided homeowners of Hampton Roads and Maryland with exemplary workmanship at an affordable price.
By honing the skills she mastered as a civil engineer and the discipline she exhibited as a Staff Sergeant, Lisa prides herself on understanding the customer's needs with great attention to detail and exceeding their expecations. By attending and conducting training on the latest building products, she is able to stay current on the most up-to-date building techniques. It is her expertise, experience, and professionalism that customers have come to respect and trust.
Although she has proven herself to be a leader in the field and the owner of a reputable company, she continues to take a hands-on approach with all of her customers. In addition to providing free estimates and consultations, she takes the time to answer the questions of her clients to guarantee their satisfaction. Fully licensed and insured, she stands behind her workmanship with pride and integrity.
A note from Lisa Moran, owner:
The ultimate goal of Complete Custom Tiling is professional home renovation, including tile installation, contracting, reflooring, painting, construction, and tile setting.  Any home owner or redecorator who is embarking on renovation (no matter how small!) can be intimidated by all the stories out there of bad contractors, over-budget or endless projects, and money pits!  But at Complete Custom Tiling, you can trust that you are dealing with licensed/bonded professionals who can provide excellent recommendations and show beautiful pictures of finished projects.
Complete Custom Tiling has excellent relationships with distributors in the area, which is a terrific relief to many customers who don't know where to go for their materials.  We take care of all of that.
I take pride in my work and understand that it is only by helping my customers achieve their vision that my own business can grow.  If you are looking for first-class service, you have come to the right place!
Complete Custom Tiling is here to serve you and answer any questions you may have.
Call us today:
for Virginia residents, call (757) 718-0535
for Maryland residents, call (410) 310-0706
We put our customers first. We listen to you and help you find what you need. Come visit to see what we are all about:
Quality Work
Effective communication
Quick Turnaround
Friendly and Approachable
And much, much more!
Check out a slideshow of some of my finished products by visiting our "Finished Products" page!
Take a quick glance at our services:
Remodeling

:
Home renovation, rehab, and restore
Bathroom remodeling
Home remodeling
Kitchen remodeling
Painting and wall covering
Interior Projects

:
Ceramic tile and stone
Hardwood and laminate flooring
Appliance installation
Refacing and cabinets
Drywall and plastering
Plumbing
Exterior Projects

:
Decks
Fencing
Siding/Residing
Outbuildings (sheds)
Other Services

:
Cleaning
Demolition
Electrical
Handyman
Odd-Jobs
Other
Honesty, Integrity and Quality Workmanship
For the past decade, Complete Custom Tiling (formerly Sea Haggs, Inc.) has served the Hampton Road area (Virginia Beach, Chesapeake, Norfolk, Hampton, Portsmouth, Newport News, Suffolk, Williamsburg, and northern North Carolina).  Honesty, integrity and quality workmanship are the core values of our company and the foundation on which our company is built. These values have been instrumental in building positive business relationships, which have been established solely by word of mouth.  Not only does our company take great pride in these values, but they are the same qualities each member of our crew brings to the job site each and every day.